New Alternate Tour for ClubCarmen.com
Hello Carnies!
We have added a new tour on ClubCarmen.com. Click on "Linking Codes" and view the Club Carmen Links.
This tour is highlighting our upgraded content. We have redone the images at high resolution and the videos are going hi-res as well. We are almost complete with this upgrade and are very proud of the improved quality.
Enjoy!
Midnight Carnival Team
Updated Carmen Luvana FHGs
Hello Carnies!
Take a look at the Carmen Luvana hosted galleries. We have replaced the images with high resolution versions. Get your new copies today!
As always, please do not hesitate to contact us if you need anything.
Thanks!
Midnight Carnival
We are now running NATS 4!!
Welcome to the new NATS4 system.
As always email us with any questions.
Official Carmen Luvana Site Live!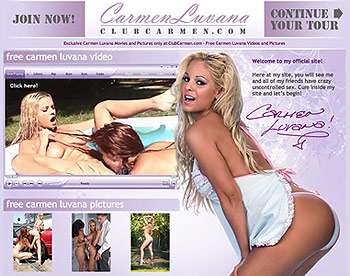 It's Official! Carmen Luvana's official members area website is now live with Midnight Carnival! Her site took off running so get in on the action!

Carmen is a vivacious blonde Latina pornstar who talks dirty and knows how to make a man cum. In addition to being sassy and sexy, she is Adam & Eve's first ever contract star and starred in major productions such as Pirates and Rawhide. These high caliber movies and many more successful films have created a huge fan base for Carmen that guarantees excellent conversion ratios!

Carmen Luvana's awards include…
XRCO Best New Starlet 2002
CAVR Best New Starlet 2002
Night Moves Best new Starlet 2003
Adam Film World Best New Starlet 2002
Rawhide (Carmen's Feature movie) - Best Video feature of the Year AVN 2004
Best GG Scene Carmen Luvana & Jenna Jameson for (My Plaything 2) XRCO 2004
Hottest Ksex Jockey "Naked" Listeners Choice awards 2004 (Ksex radio)
New Banners for Humiliation POV
Hot new banners added for Humiliation POV!

Remember you can always find more banners at our banners page: http://www.humiliationpov.com/banners.php
[caption id="" align="alignnone" width="468" caption="humiliation pov"]
[/caption]
Hot New Brat Girl Humiliation Galleries from Humiliation POV
The hottest cruel girls are coming at you with the most extreme and degrading fetish galleries available today! Let your surfers enjoy the unique humiliation from the most addicting spoiled bratty girls on the web!
The New and Improved Midnight Carnival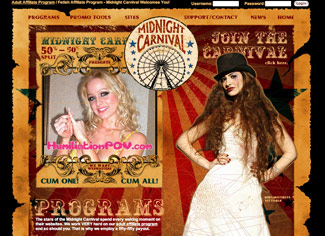 Come one, come all and witness the magic of your new and improved Midnight Carnival! Marvel at our new design! Sure we look pretty but the best news is yet to come.

Announcing the new webmaster referral program! Generate 10% of revenue from every webmaster you refer as well as 2% of second tier webmaster earnings! Get out your megaphone and shout Midnight Carnival!

Webmasters can promote any of the following quality websites: BallbustingGirlsWorkout.com, HumiliationPOV.com, and VittoriaErotica.com. More websites coming soon and you will never guess who is joining us.

Get ready as Midnight Carnival reveals the arrival of our newest star! Carmen Luvana is coming! Experience this amazing hypnotizing blonde bombshell who will blind you with her beauty!

Yes, Carmen Luvana will be joining our ranks very soon. We look forward to presenting this sassy Latina from New York City, raised in Puerto Rico. Stay tuned to see Adam & Eve's first ever contract star, baring all in her explosive films and exclusive content, sure to make you blow your top.

As always we encourage you to seek custom promotional tools from Midnight Carnival. We are working hard to make this the best fetish affiliate program out there and we would love your participation.
New Vittoria Erotica Foot Fetish Tour!
Login now to get your linking code for the new Vittoria Erotica foot fetish tour!
The tour features high quality foot fetish photos with things like trampling, foot worship, and erotic foot fetish. The tour concludes with an erotic foot fetish video.
To get your linking code login now and click linking codes. Generate your linking codes and you will see the link to the tour.
Presenting VittoriaErotica.com ~ Classic Beauty, Pure Fetish
– For Immediate Release
Wild and kinky nerd Vittoria announced today that her website (VittoriaErotica.com), which chronicles her perverted life through writing, photos, and movies, is now live and accepting members. Vittoria started out as a programmer while at University but decided she wanted to love waking up in the morning so she used those skills to create her website, which displays her true passions. She is an extrovert and loves to share her kinky fantasies. Vittoria loves it when members interact with her especially during live shows.
Vittoria has a passion for many perversions, but most of all for femdom. She loves to dominate with such activities as foot worship, face sitting, corporal, humiliation, and more. Her favorite thing is to use her sluts for her personal pleasure and orgasm. Her creative mind is always inventing various ways to torment her submissive sluts.
At her website VittoriaErotica.com members can find everything from high quality glamour photos and movies all the way to her own amateur home movies and photos. She updates every day and writes her blog to keep her fans up to date on her naughty activities and plans. "Vittoria's website is totally real and shows you exactly who she is on a very personal level," says one of her biggest fans. "I get to chat and see her live at least once a week. I'm a member for life!"
Vittoria loves fine clothing and has a fetish for stockings, corsets, high heels, rubber and latex. Her long hair falls down past her hips and she loves to use it as a fashion statement whether letting it flow all over her body or a fancy updo.
Want to partner with Vittoria? Her state of the art affiliate program Midnight Carnival, powered by NATS, is looking for participants and offers a 50/50 revshare for the life of memberships.
To see more of this femdom pinup please visit http://VittoriaErotica.com. Vittoria herself can be reached by email at vittoria@vittoriaerotica.com.
–Press Release
Contact:
Vittoria
http://www.MidnightCarnival.com
vittoria [at] midnightcarnival.com
ICQ 236458489
Read more about our adult affiliate program